In the following post we willl explain you how to install the LR-V2 onto your FarCry Game.
Installation
First at all visit the official webpage of LR and Download the Installer https://farcrylraddon.de/installation/
Once downloaded open up the Zip file and start up the Installer Exe.
Once startet up, just click "Next"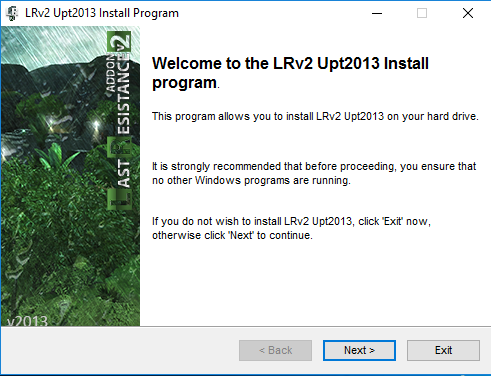 Read the information below about the LRv2 Extension and click "Next"

Read the license agreement, and chosse "I agree with the above terms and conditions" in case you accept them. Otherwise chosse "I do not agree" to cancel the installation.

Select the path to your FarCry Directory and click "Next" to finalize the installation.
For CD/DVD FarCry Players it used to be: C:\Program Files (x86)\Ubisoft\Crytek\Far Cry (or FarCry without Space)
For Steam Players it used to be: C:\Program Files (x86)\Steam\steamapps\common\Far Cry (or FarCry without Space)

Review your chossen path where to install LRv2, and click "Start" to make the installation.

Once the Installation is done. You got the LR-Launcher already launched. Otherwise just start it up using the new Icon you got on your Desktop.
The LR-Launcher
The LR-Launcher got a few usefull things to make it easier with FarCry to switch between LR and FarCry Patch 1.4
On first running, you need to set the following stuff to configure it. To do that go to your Windows Notification Bar, and do right click onto the LR-Logo.

Now go straight to the Settings part of the Launcher and configure a few stuff.
(You can put your Ubisoft login data to it, which allows you to be automatically logged in into Ubisoft when starting the game through the Launcher.)

Now just go to "Game Patch" and click "Select" and chosse your FarCry Path, than click "OK".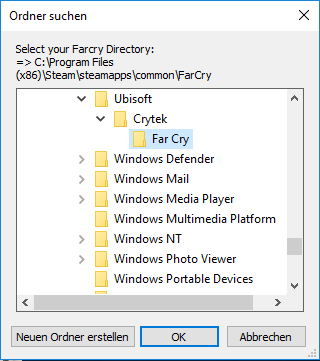 Now just go back to your Windows Notification Bar, do right click on the LR Icon and go "Play", now you can choose between Normal FarCry or launching FarCry using the LR Extension V2.


Remember: If you got any errors, issues, etc. than feel free to take a look into the F.A.Q. forum, maybe yoour problem is already known and you can get the fix from there. (https://forum.farcrylraddon.de/viewforum.php?f=7)
That's it, now just start up your Game and start Playing FarCry!
Have Fun!
Your LR-Team :knot: